5 Hidden Facebook Messenger Features You Need to Try Now!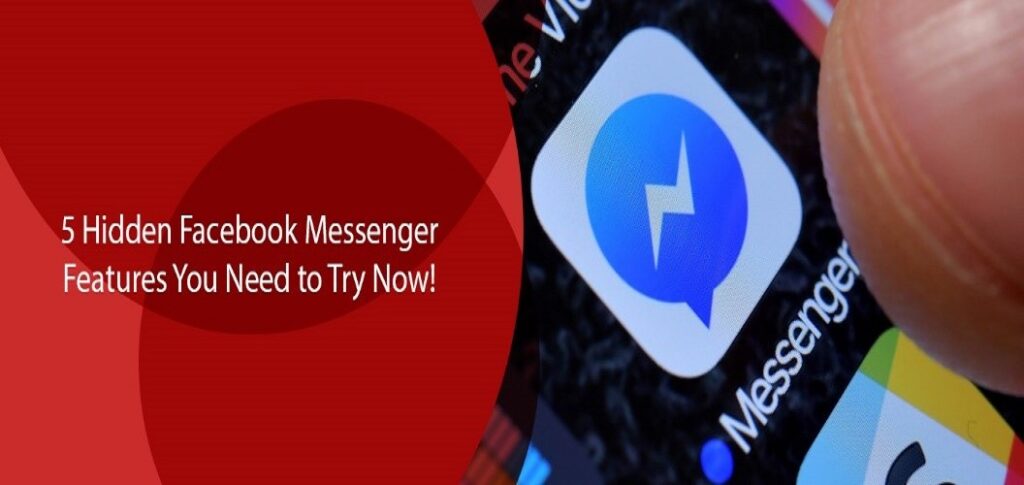 When Facebook introduced Messenger in 2011, we treated it like nothing more than a fun, handy platform for catching up with our friends on the go. We used to scroll through it all day, just to forward random text messages and memes to our loved ones.
But fast-forward a couple of years, and, boy, things have drastically changed. Now we rely on Facebook Messenger not only for texting, but also for tons of other activities, like audio/video calling, money transfers, playing games, and much more. Probably, this is the major reason why Messenger is ranked among the most frequently used apps in the world – it has over a billion active users across the globe.
Although most of us are well aware of its basic features, we still want to tell you that Messenger has a long list of hidden, or least-commonly used options as well. From setting customized nicknames and reminders to playing instant games, Messenger offers a variety of fascinating features that can make chatting more fun for you.
To make things simpler, we have come up with our top five picks of all these features in 2022 – so, without any further ado, let's get started!
1) Assign Nicknames to Your Fellas
Let's admit it, there's no better way to celebrate your shared humor with your friends than assigning witty nicknames to them – Polo for Paul, Johnny for John… and the list goes on.
Well, interestingly, Messenger also seems to love setting nicknames for your friends – it lets you set customized nicknames for your friends in chat windows. To access this feature, simply click on your friend's name that appears on the top of your screen and tap on 'nicknames'. This option is available for individual conversations, and for group chats as well. However, the only difference is that group nicknames can be edited and added by anyone in the lobby – so if you decide on being witty, prepare to be out-witted too!
2) Play Games on Messenger
Bored of constant chatting? Well, fret not – Messenger offers a variety of fascinating games to keep you entertained on the go.
Simply tap on the little 'plus' symbol appearing at the bottom of your screen and select the 'games' option. You will see a whole list of games popping up on your screen – from PAC-MAN and Solitaire to Tomb Runner and Snake, without even closing the app.
The best part is that this feature works on group chats as well. So, you can always enjoy your favorite games with your friends whenever you want!
However, the only key here is to connect to a high-speed internet connection so that you can enjoy a lag-free gaming experience without excessive network congestion. For your convenience, you can always opt for some reliable internet providers in town, so that your games do not take extra time to load.
For more details, you can always reach out to the link mentioned above. It will provide you with all the information you need regarding the best internet plans, bundles, and deals in your area.
3) Make Plans
Honestly, making concrete meetup plans with your friends can become a big hassle at times, especially if everyone works different shifts. You need to keep track of everyone's working hours, available days, break timings, and whatnot.
Well, fret not, Messenger has an ideal fix for this prob. Now you can easily set up 'Reminders' in group chats so that your friends never have any excuse to ditch you (or to run late).
Simply open up your friends' conversation, and tap on the four dots appearing in the typing box. Now tap on 'Reminders' and insert all the details like time, location and activity, etc. That's it – your reminder will be auto-saved in the chat so that your friends can view it whenever they want.
4) Access Messenger without Facebook
Let's admit it, there are many people around us that always make excuses to not create a Facebook account – they just don't want to make any further additions to their social media apps. Well, although this reason is pretty understandable, they will be missing out on Messenger fun because of sign up issues.
Interestingly, Facebook allows its users to enjoy the Messenger app, even if they do not have a Facebook account. To access this feature, simply direct to the Facebook sign up page and click on the option "I don't have an account", and you will be given a phone number login option. Simply insert your phone number and enjoy using Messenger without Facebook!
How cool is that?
5) Use Messenger with the Web Version
Did you know that you can use Messenger from your PC/Laptop too? Well, you can! Facebook allows you to access its chat app without your smartphone too.
Simply log in to your Facebook account from your PC or Laptop, and click on the Messenger icon appearing on the top of your screen. Your chat app will pop up right in front of you. It's that simple!
The best part is that Messenger's web version is also pretty high-end. It provides you with almost all the features that are available on the smartphone version. From instant messaging to audio calling and video conferencing, you can always rely on Messenger's web version for all types of instant communication.
To Sum It Up
So far, these are our best picks from the list of less popular Messenger features that we absolutely love. We hope you enjoyed reading them – do let us know in the comments below if you also know about any hidden Messenger features.
Finally, please remember that Messenger is an online platform, so you cannot download it on your phone without having stable internet connectivity at home. Therefore, just make sure that you're connected to a high-speed internet connection before getting your hands on the app– it will provide you with prompt installation.
Just in case, you are looking to switch your internet provider, do check out BuyTVInternetPhone. It has the most high-coverage, yet affordable internet deals for your region.
About Author