Kasol to Kheerganga Trek from Delhi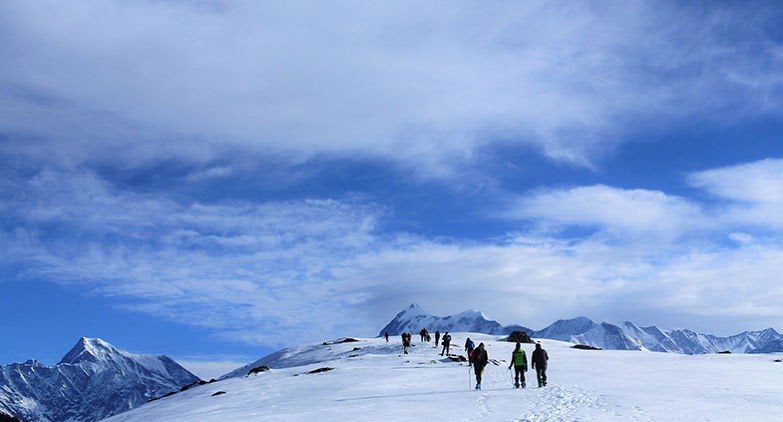 Kheerganga is located in Parvati Valley of Kullu district of Himachal Pradesh. It is also a holy place and many tourists visit this site all year. You can expect a hot water spring known as Parvati Kund. I enjoyed my first trek to Kheeganga with my hubby and daughter so much so that thought of sharing my experience plus some tips to inspire people to trek with kids.
Kasol Kheerganga trek was out of the question. I and hubby didn't have any trekking experience and we were sure that it's next to impossible with our little daughter who can't even walk up to a nearby market without complaining about her leg pain.
Travel from Delhi
Kasol is around 520 kilometers away from Delhi and it takes around 12-13 hours to reach Bhuntar. There is the availability of airways, railways, and roadways to reach Kasol. However, there are no direct buses from Delhi to reach Kasol. If you are coming in your own vehicle then it's fine. But you must take the bus from Delhi to reach Bhuntar in order to reach Kasol. Then from Bhunter, there are buses to and fro to reach Kasol. Usually, people prefer night journeys for long-distance travel. So, you can start the journey from Delhi at around 9 pm in the night heading towards Himachal Pradesh. You will be reaching Kasol by morning at 6 am. The best part in opting for a night journey is that you can see some of the beautiful views and snow-covered peaks and Parvathi river early in the morning with fresh breath.
Book the amazing Kuari Pass trek and explore the mighty Himalayas!
Life at Kasol
So after reaching Bhuntar you can find the buses that take you to Kasol. There are many local buses to Kasol so no worries. It takes around 2 hours to reach Kasol from Bhuntar in a local bus. The bus will drop you off at the main road of Kasol. You can book a room near Kasol. Or you can take the option of camping in Kasol. 
After your check-in, there are many German and Israeli food dishes in Kasol that you can opt for your breakfast. You can next start your journey to the Kheerganga. So from Kasol, you can take a local bus to Manikaran. It is around 3 kilometers. Manikaran is famous for Gurdwara and the popular hot water springs. After your spiritual visit you can also explore the market of Manikaran where you can find a great variety of handicrafts.
You can either opt for Manikaran Sahib or start your trek to Kheerganga directly. On the next day of the Manikaran visit, you can start your trek to Kheerganga. The same bus which takes you to Manikaran will also take you to Barshaini. It takes around 1 hour to reach Barshaini from Kasol. Barshaini is a base village where the Kheerganga trek actually starts.
Kalga or Nakthan
There are different routes to take from Barshaini to Kheerganga. There is the Tosh route, Kalga village route, and Nathan village route. Kalga and Nakthan are main routes to Kheerganga. Kalga village route goes through the forest and you can see Barshaini dam. It is a bit of a long route of 16 kilometers but it is an easy trail. Though the Nathan village route is small, around 12 kilometers, the trail is steep and difficult. So many people use this route to retreat from Kheerganga.
Kalga village route is also adventurous and mostly surrounded by forest. It has some wide plain areas. After reaching the top you will get to see many camps. You can either opt to rent a camp or pitch your own camp. Kheerganga is also famous for its sunset and sunrise views. You will also get to see many hot water springs in Kheerganga. Since the sunset happens early in Kheerganga the dark sky sets in early. On one side there are cool breezes around and on the other, you will experience hot water springs that will moderate the breeze. It's altogether a unique experience.
After this amazing feeling, you will get to have some amazing dinner along with bonfire music. After a deep night's sleep on the lap of nature, the morning in Kheerganga welcomes you with a great sunrise. You will get to feel an incredible experience with Kheerganga. After this journey to Kheerganga, it's time to descend from here. 
You can descend from Kheerganga crossing over Nathan village. You can reach Barshaini at around 4 pm. The last bus from Barshaini to Kasol is around 8 pm. So do come early to catch up with the last one. In order to enjoy the complete trek of Kasol, you can also visit Chalal village. There are some nice cafes in Chalal that you can visit.
Conclusion
So overall it would be a great relief from the urban congestion of Delhi to this naturally close world, Kheerganga. Do consider visiting Kasol and Kheerganga to enjoy some meaningful moments in your life.
About Author