Top-Rated Islands in the Maldives That You Should Visit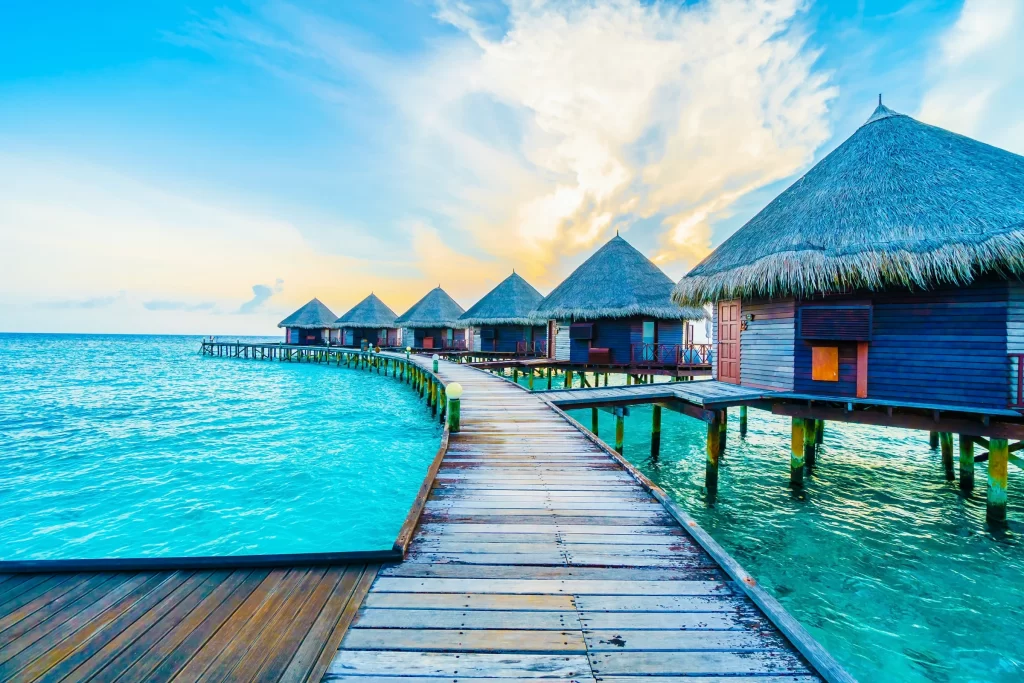 Maldives is one of the gem places across the world, which is centrally located in South Asia. The Maldives is everyone's center of attraction, and people worldwide come to visit this island country to witness the beauty of its beaches, traditions, and culture.
The Maldives contains numerous islands and beaches, which are incredibly wonderful. People who visit this place must visit tourist places, witness the tradition of Maldives, try authentic food that represents the taste & flavor, and explore the fab activities of waters like scuba, surfing, parasailing, etc.
The Maldives offers you exquisite beaches filled with bluish crystal water, bright sandy beaches, and top-level overwater resorts & bungalows.
The best time to visit this place is between December and March, when you can experience the soothing weather to enhance your stay and make it wholly memorable. You can witness fantastic coral reefs and marine life, leaving a massive impact on you.
If you are looking for a budget-friendly trip, you can opt for the , Delhi, or Pune, which saves a lot of money for you. Plus, you can enjoy your stay way more with this offer.
Top-Listed Islands in the Maldives
Maafushi Island
Maafushi is one of the undoubtedly unique places to visit in the Maldives, where you witness the tropical paradise filled with authentic beaches, sparkling water, splendid hotels, and adventurous activities. This Island has many hotels and stays, which many tourists can enjoy safely.
Maafushi offers fantastic activities for you and your partner, like sunbathing on the beach, catamaran rides, snorkeling, and fantastic boat rides that give a full tour of this Island. The best time to visit the Island is between January and February, when the temperature of this place becomes soothing and slightly cool, which significantly impacts your stay.
Veligandu Island
This place is usually the best honeymoon place as it is fascinating and cool. Experience the romantic aura of this place which is alluring. Also notice the lush greenery, coral reefs, and shimmering blue ocean. You can do some activities to rejuvenate your experience by snorkeling, scuba, and witnessing blissful lagoons. The best time to fully enjoy this Island is between November and April, when the weather is pleasant. And the ocean's water is calm with excellent underwater visibility reflecting the beautiful sightseeing for visitors.
The places and food points that increase the experience of visiting this Island are Kuramathi Maldives and Veligandu Island resort & spa. Madivaru restaurant and Dhonveli restaurants.
You can have a great time with your loved ones on this Island. Where you get a pleasant experience that enhances the honeymoon trip. The beaches are very authentic to spend time with, especially in the evening.
Vaadhoo Island
This place is unquestionably unique compared to other places, Where you witness the extensive beauty of the beach water at night. Vaadhoo island is undoubtedly an excellent place to visit with your friends. And family, where you witness blissful beaches that represent an immersive view of the oceans. And complete relaxation for the sandy beaches where you can play water volleyball. The main attraction of this place is that if you visit the Island in the evening. You notice the water on the beach is slightly shining, which looks mystical. You will have an authentic view of the Island with the glittering water.
The accurate time to witness the glam of this place is between may come in November. When you get maximum exposure to this place. In addition, you can easily visit this place as it is just 8 km from the male City island, which can be reached by road. You get the best experience of your stay, As there are many authentic hotels and restaurants like Holiday Inn, Adaaran Prestige, Bread Matter Green, and Cafe Del Mar. This will enhance the journey experience and make it thoroughly unforgettable.
Kuredu Island
Another authentic thing to do is have dinner with your family and friends under the water to witness marine life. You may notice wonderful fishes, water creatures, species of fishes, and coral reefs. The experience of an underwater restaurant is unique. As this place has already become a must-visit food place on this Island.
This is one of the most famous places in the Maldives, Which provides the best mesmerizing view with top-rated hotels & resorts. The best part of this resort is the private swimming pools connected with the beach, which look adorable. While the sun setting on the ocean has the best meal. which is delightful and affordable, as there are many food junctions.
The time to witness this fabulous place is between February and March. When you can have the availability of exciting activities, top-level weather, and a much cooler beach temperature. To have a legitimate stay experience, visit Kuredu Island resort and Hurawalhi Island.
Don't forget to taste the excellent dishes of this Island which also play a massive role in increasing the popularity of this place. You can visit famous restaurants like Sangu and Beach Shack for the best food.
Conclusion
Furthermore, these are the few top-level islands filled with their uniqueness and provide a legitimate experience for your visit. Plus, you can have an unforgettable stay in hotels and resorts which are less costly. The restaurants also play an essential role in mesmerizing your taste with authentic dishes. So if you are looking for the best honeymoon place to experience an unforgettable journey. Visit the Maldives as it is the ideal option. There are great Maldives honeymoon packages from Mumbai, Delhi, and Pune. 
About Author