SION Trading FZE Stepped into Crypto World With DIGNITY GOLD LLC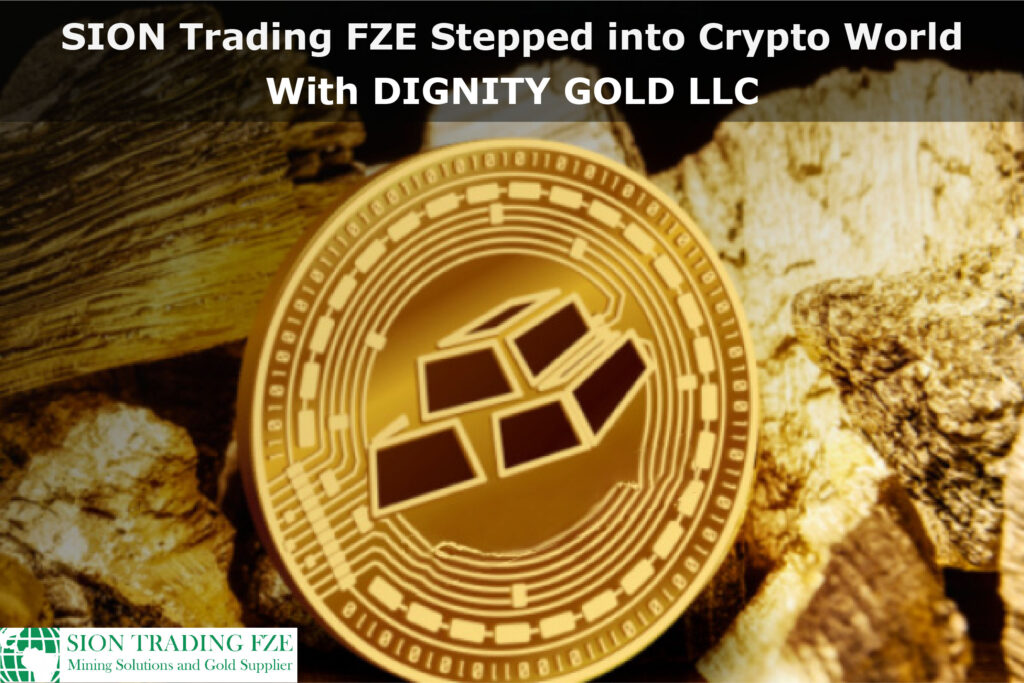 A cryptocurrency exchange called SION Trading FZE was established in Dubai in December 2017. By trading volume and turnover, it has since surpassed all other fiat currency exchange platforms in the Middle East. The company's platform allows for the trading of Bitcoin, Ether, Lite coin, and Bitcoin Cash. The goal of SION Trading is to offer customers innovative trading tools, excellent customer service. and cutting-edge technology through a seamless digital asset trading ecosystem.
Cryptocurrency Market
In 2019, Sion Trading FZE entered the cryptocurrency market by using its gold holdings. To back a number of valued coins. including Dignity (DIG), Namaste (NAM), Honor (HNR), and Orectic (ORE). On June 28th of 2019. Sion Trading FZE completed the purchase and acquisition of all shares and assets of Canadian crypto firm, Cryptobontix Inc. The transfer of assets includes the tokens – Dignity (DIG), Namaste (NAM), Honor (HNR), and Orectic (ORE).
Later in July, Dignity Mining Group and Dignity Gold. Made their debut by supporting the tokens held by Dubai-based SION Trading FZE. Group of Dignity Gold and Dignity Mining have acquired a family of. gold-backed tokens that were previously controlled by SION Trading FZE in Dubai.
A cryptocurrency that trades on Livecoin.net under the symbol DIG, is the current focus of the company. Group of Dignity Mining uses the most modern technology advancements to run one of the largest. cryptocurrency mining operations in the Western Hemisphere in Upstate New York.
SION Trading
SION Trading has revealed plans for another significant step in its mission. To become the top worldwide cryptocurrency exchange platform by deposit volume. This comes after the company launched its first crypto-to-cash exchange product DIGNITY GOLD LLC a few months ago.
On October 12th 2019, SION introduced three additional items under the DIGNITY GOLD LLC brand after successfully completing internal testing. These brand-new items are designed to appeal. to customers who wish to make payments. without having to pay any fees or commissions on each. transaction made through their bank accounts.
SION Trading FZE
SION Trading FZE has a formal agreement with Bureau Veritas to check and count the gold. and is providing the safe keeping receipt (SKR) for the gold underpinning Dignity Gold.
Company officials in Dubai will count the initial $3 billion out of the 395,000 kg of gold delivered by Dignity Gold. under the SKR agreement under the supervision of Joseph Chapman. North American Audits Manager, Metals and Minerals Division at Bureau Veritas.
There were reportedly 3 billion DIG tokens in circulation as of August 2019 according to the purported true number. which is equivalent to the "first $3 billion" of gold supply in terms of numbers.
It was planned to complete the initial gold audit verification in September. But it wasn't until after that that the audit findings were made public. The corporation announced that the audit results would be concluded by the end of November 2019. SION Trading FZE, with whom Dignity Gold has a Safe Keeping Receipt (SKR) agreement, was finalizing the coordination of internal security and its logistic team for the counting of the gold, which is located in Dubai. The news announcement gave no more justifications for the postponement.
Specialized in the Acquisition
For more than 30 years, SION Trading FZE has specialized in the acquisition and sale of metals. including gold and copper. There is a wide network of customers, suppliers, and off-takers for the company throughout Europe and the Middle East. They have established a reputation for providing their clients with. high-quality precious metal items at costs that are competitive in the market. A vibrant group of people created the Sion Trading FZE enterprise.
SION Trading is a pioneer in the industry of exchange services and businesses involving cryptocurrencies. Since entering this market in 2016, the company has established a strong reputation among both investors and traders.
Dignity Holdings
Dignity Holdings, LLC, a pioneer in cryptocurrencies and digital coin mining. Announced its official launch as well as the acquisition of Cryptobontix. a family of tokens backed by SION Trading FZE's gold in Dubai, by its wholly owned subsidiaries Dignity Mining Group, LLC and Dignity Gold, LLC. Dignity (DIG), Namaste (NAM), Honor (HNR), and Orectic are the four digital currencies that Dignity Gold now controls from Cryptobontix as a result of the transaction (ORE).
In addition to the tokens, it will maintain its partnership with SION Trading FZE. By providing a safe keeping receipt (SKR) for 395,000 kg of gold.
Kent M. Swig will serve as Chairman of the newly established companies, and financial. technology, and real estate sector veterans Stephen Braverman will serve as President and CEO.
Dignity Holdings and their subsidiaries have officially launched, and I am happy to announce that," said Braverman.. "Our groundbreaking technology and top-talent are unparalleled in the industry and. I am eager to help grow our firm into one of the largest, most stable global cryptocurrencies."

Dignity Gold
Dignity Gold will initially focus on its cryptocurrency coin, Dignity. It trades on Livecoin.net under the ticker DIG and is secured by gold owned by SION Trading FZE.
As the founder and CEO of Hash One, one of the top cryptocurrency mining consultancy companies. and a mining expert, Dignity Mining Group also runs a sizable mining operation. Hayden Gill is in charge of this business.
Dignity Mining Group also employs state-of-the-art hardware for its mining operations, including 708 AMD mining rigs powered by 12 Power color/TUL RX Vega 56 Nano GPUs apiece.
Braverman brings to the table more than 30 years of experience in managing investments and trading securities.
He previously held the position of Chief Operating Officer at the centralized cryptocurrency exchange Arbitrage Exchange. He formerly oversaw a discretionary account for a California-based investment fund and traded equities at Clear view Trading Advisors, Inc. Additionally, Braverman worked for Knight Capital Group, Inc. for ten years as the managing director of listed equity trading. He founded the trading technology company Liquid Holdings and served as its first chairman.
About Author