4 Ways to Upgrade Your Bathroom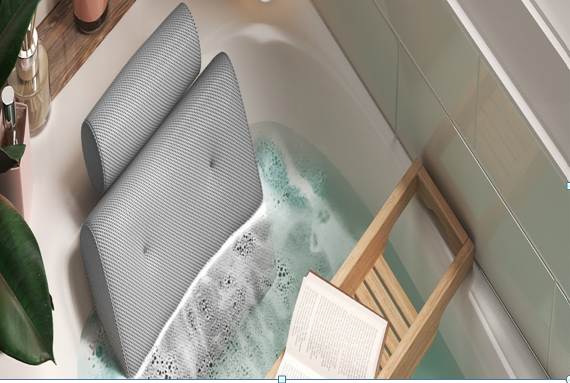 Your bathroom is your sanctuary. There is no other room in the house where you can truly be alone to unwind. Even if you share a bathroom, when it comes time for private bathing time, chances are you have the room to yourself.
It is a great time to schedule yourself a little "me" time and really take advantage of this quiet time. The best way to maximize the comfort in your bathroom is to make some simple upgrades.
Upgrading your linens, adding comfortable bath pillows, and making small updates to decor can help you give your bathroom a must needed refresh.
Think Tub
Showers are great, but if you have a bathtub in your bathroom, that is the best place to start your upgrade. To efficiently relax in a tub, you have to be comfortable. Most tubs are designed for laying and soaking, but head and neck support is non-existent.
Proper head and neck support while in the bath can be beneficial in more ways than just providing comfort. Soaking in a hot bath can relax your muscles and alleviate neck and lower back pain, which can lead to better overall posture.
You may have tried a rolled up towel to prop up your head and protect it from the sharp, hard, or cold edges of the bathtub, but that never works. The best item to add to upgrade your tub is a high quality bath pillow.
In addition to a great bath pillow, upgrade your tub and bath experience by having a selection of epsom salts, oils, and aromatic bath bombs or bubbles to create a spa-like experience. Take full advantage of your private tub time.
Think Linens
If you are going to spend a little more money on an item for your bathroom, it should be high quality towels. There is nothing worse than a towel that feels like you're using a piece of sandpaper to dry off.
It should also be absorbent, and lint-free. As you know, it's no fun having to pick lint off your arms and legs after you've dried off. A well made bath towel will also dry quickly, even if plush and soft. Many home experts will argue that Turkish cotton is the best material for all the linens in your guest bathroom. Similar to Egyptian cotton, the long fibers of Turkish cotton yield stronger and smoother threads than regular cotton. It even grows softer over time and with every wash.
Make sure your bath towels are large enough to wrap around your entire body for the maximum luxury feeling. Also, don't forget to upgrade the other linens in your bathroom such as washcloths, hand towels, and your bath mat.
When stepping out of the relaxing bath, you want to be sure there is an absorbent and anti-slip bath mat for your feet to land on. Use one that provides comfort but will also dry quickly to prevent mildew and smell.
Think Spa
Your bathroom doesn't have to have marble tile or granite countertops to be luxurious. By following a few simple design tips, any bathroom can be reminiscent of a spa at first sight.
The color of your bathroom walls should be light in color. They don't have to be white, and if you have wall to floor tile, then you won't need to worry about paint. Lighter colors make a space seem bigger. Even if your bathroom is large, it can never look too big. Lighter colors also give a cleaner look overall.
Less is more, keep any decor as minimalist as possible to achieve modern clean lines. Wallpaper can also bring a unique texture to bathroom walls and give it a more cozy or spa-like feel.
Plants also help create a spa environment and are a great visual to have in your bathroom. Keep the plants in your bathroom healthy so they are always looking fresh. A dying plant can affect your mood, so you should have nothing but your healthiest houseplants in your bathroom.
Think Light
Although this suggestion may be more costly and involved, a great way to upgrade your bathroom is to update old lighting. If your bathroom has older (1970s) lighting, you may want to consider something more modern.
There are lights and sconces to suit every style and decorator at heart. You want to choose bright, but flattering light. If the lights can be dimmed and adjusted that's even better. You can have them brighter when applying makeup or getting ready, but lower when you want to relax in your own private spa.
By making a few simple changes to your bathroom, you can transform it into your own version of a day spa. Make your bathroom a place you want to be, and surround yourself in comfort.
About Author